Businesses should keep their costs to a minimum in order to increase profit margins, meet customer expectations and grow. In general, effective stock control plays a very important part in reducing the costs of both businesses with physical stores and e-commerce businesses. A business's most important asset is the stocks of its goods and services. Therefore, proper stock management directly affects the profitability of the business.
In this article, we will talk about important issues such as what stock is, what stock management is, what the advantages of stock keeping for businesses are, and the stock control methods that provide effective stock control for e-commerce businesses.
What is stock?
Stock is the assets such as products, materials, and raw materials that businesses have in their inventories to continue their commercial sales activities and meet the demands of their customers. Product stocks can be in different manners;
Raw material stock: Stock of raw materials and consumables used in the production process.
Semi-finished stock: Stock that has been processed or assembled in the production process.
Finished product stock: Stock obtained at the end of production and ready for use.
Current product stock: Stock in warehouses or stores ready for sale.
Safety stock: Stock that is kept extra for supply chain disruptions, demand fluctuations or contingencies.
Loop stock: Stock used for transfer purposes to link production and utilisation transfers.
What is stock management?
Businesses have information about whether raw materials, materials, products and other needs are available in sufficient quantities by controlling stock. For this reason, stock management is the basic need for a business to carry out its sales operation in a proper way. The effective control, maintenance and optimisation of the stocks owned by the businesses constitute the stock management process.
In the stock management process, it is aimed to carry out the sales operation properly by managing the product supply chain, customer demands and stock movements.
What are the advantages of stock management in e-commerce for businesses?
Stock management in e-commerce is critical for the sustainability and profitability of businesses.
Let's look at the advantages you will provide to your business with the right stock management;
It helps you forecast demand: While forecasting future demand for your product, you can ensure the safety of your current stock and prevent you from overstocking or stockouts.
It provides optimisation of stock levels: It determines the maximum and minimum stock safetyyou need. In this way, it minimises your stock costs.
It facilitates your supply chain management: It helps you plan your material supply, production timing, and order costs while you cooperate with your suppliers.
It allows you to monitor stock movements: It allows you to monitor movements such as receiving, storing, shipping and selling your products. Thus, you can easily access which products are sold more and the amount of stock you have.
It saves time in stock movements: It provides you time savings in the process of taking the products into stock and outputting them.
It increases customer satisfaction rate: It allows you responding to your customer demands quickly and accurately and delivering on time.
It optimises your cost control: It prevents you from cost increases that may be caused by keeping excess stock and loss of sales caused by stockouts. Accuratestock management reduces costs and increases the number of your customers.
It gives you the opportunity to forecast with data analytics: By analysing sales trends and market behaviour, it informs you about the estimated demand and allows you to adjust your stock amount accordingly.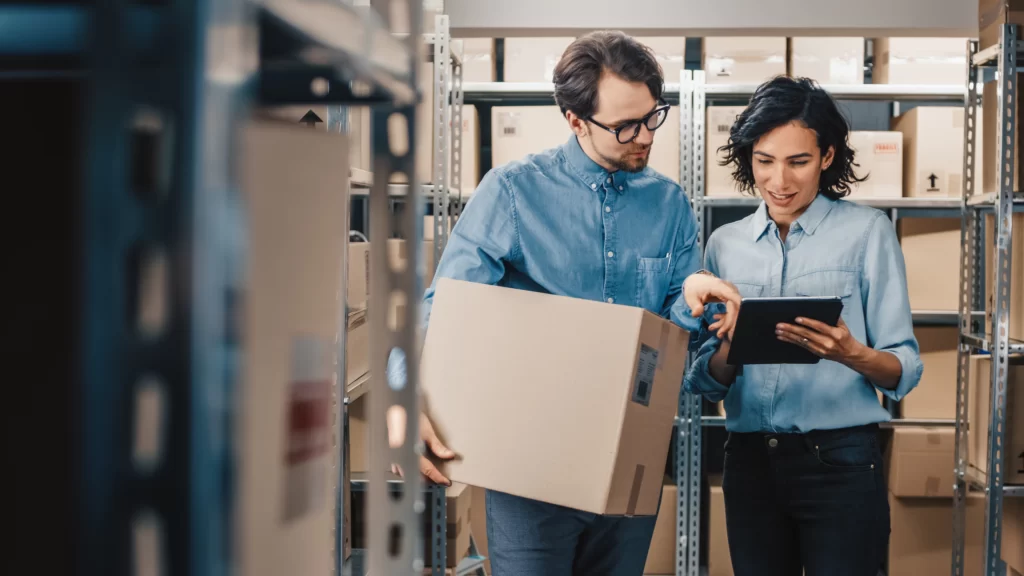 What are stock control methods in e-commerce?
Proper stock management for e-commerce businesses helps to avoid unnecessary costs and meet customer satisfaction. Therefore, stock control and management has a strategic position for businesses. Failure to perform stock control correctly leads to overstocking, stockouts, an increase in the cost of storage and management services, and disruptions in the sales process.
In e-commerce, stock control is at the centre of effectively managing commercial product stocks.
We can categorise stock control methods under two main titles; physical stock control method and software stock control method.
Here are the stock control methods in e-commerce;
1- Physical stock control
Physical stock control is the manual counting of enterprises in their warehouses.
Physical stock control has different methods in itself. A few of the physical stock control methods can be listed as below
Visual control method:
It is a completely manual stock control method. In the visual control method, the personnel count the products one by one in the time periods requested by the business and report the stock amount. Since the visual control method is based on a personal count, the error probability is very high.
ABC (Always Better Control) stock management
ABC (Always Better Control) stock management is the stock management of products according to their importance for the business. ABC stock management system is the management of the goods in stock by classifying them according to their annual consumption values and their value in terms of material value. Accordingly, goods in group A represent products with low consumption but high cost, goods in group C represent products with high consumption but low cost, and goods in group B are positioned between group A and group C and represent product groups with medium quantity and material value.
Two-bin stock control method
In the two-bin stock control method, each material in the warehouse is kept in two different bins, one of which is larger. When the material in the larger bin runs out, a new material order is placed. The materials in the smaller bin are used until the new material order reaches the warehouse.
Fixed order quantity method
Another physical stock control method is the fixed order quantity method. In this method, a product is usually ordered after a certain amount of a product is used. Let's say you have a coffee shop and when you use or sell 50 of your coffee packs, you create a coffee order while you still have coffee. Thus, you will avoid stockouts. A fixed order quantity can sometimes cause problems in meeting product demand. Using the fixed order quantity method as a stock control method may cause your stocks to be insufficient in case of a possible increase in consumption. For the fixed order quantity stock method to function properly, the consumption rate must also be constant. If the consumption rate is also constant, your problem with meeting demand is eliminated.
Fixed order period method
Businesses create orders at certain frequencies for the stock materials they need. The application of the fixed order quantity method at certain frequencies constitutes the fixed order period method.
The most important detail that businesses should pay attention to fixed order period method is to observe the periods when the order demand is low or intense.
In the physical stock control method, business personnel spend time counting stock during working hours or out of working hours. Physical stock control is a traditional form of stock control management that can often lead to inaccurate stock counts. In this stock management model, businesses may need more manpower . While this creates additional costs for businesses, it can also cause inaccurate stock counting as stock counting is done manually. Thus, sales loss may occur.
2- Software stock control management
Today, many small and large businesses have started to use software stock methods in order to increase the efficiency of their existing personnel and prevent cost loss. Especially in the world of e-commerce, businesses need to have up-to-date stocks to be ready to receive sales 24/7. It is very difficult for businesses who want to grow in e-commerce to follow an important issue such as stock management with traditional stock control methods. As a stock control system, software solutions enable businesses to perform fast and error-free stock control management.
With the software stock control method, businesses can manage stock from a single place by integrating their warehouses, marketplaces and websites, regardless of how many physical warehouses they have.
Stock control in e-commerce is an important factor for the profitability of your business and customer satisfaction. With software solutions, you can provide effective and efficient stock control by using a stock management method suitable for your business.
With our fiCommerce technological infrastructure, perfect stock management is waiting for you in our end-to-end e-commerce solutions for your business. You can upload your products to fiPlatform smoothly and quickly from Excel templates or External APIs and update them. You can let fiPlatform manage the stocksor you can manage it yourself by feeding stock to fiPlatform from External APIs.
Excess sales due to stock errors can lead to problems such as customer dissatisfaction, fines and store score decrease. As fiCommerce, weoffer perfect operation management with 99.95% stock accuracy to the e-commerce brands. . We also provide support in sending the correct prices to sales channels and making price updates on a channel basis. With the virtual bundle feature, we enable you to increase your competitive ability by listing multiple products as a set.
Contact us for more information about our end-to-end e-commerce solutions.